TASK:
Create a pack of promotional material including vivid themed event descriptions, to be used by an event production company to promote their services to local hotels. The hypothetical events were not intended to be sold as-is, rather spark the imagination of potential hotel partners, and help them imagine what this designer could do on- or off-property to extend their own services and enhance their clients' stay.
SOLUTION: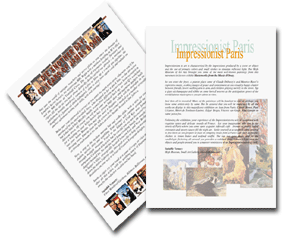 It was decided to create a personalized information pack for each potential hotel, holding 3-4 theme party sheets along with other information. Using individual sheets for each theme party would allow the production company to choose sheets that best matched the clientele of each respective hotel. Details such as the type of party or guest makeup were omitted in favor of atmospheric descriptions, to allow the sample parties to be relevant to as many groups as possible. Contact information was omitted to allow for the possibility of reseller agreements.
---
… your experience of the Impressionist era will be completed with exquisite tastes and delicate sounds of France.  Let your imagination take you to the streets of Paris where you come upon a quaint sidewalk café.  Aromas of freshly baked croissants and savory sauces fill the night air.  Settle yourself at a candle-lit table covered in fine linen as you prepare to feast on tempting treats from a Parisian bistro. The sun has gone down, and yet the candlelight flickering all around you provides a subdued glow, throwing light onto the objects and people around you in a manner reminiscent of an Impressionist painting itself...
---